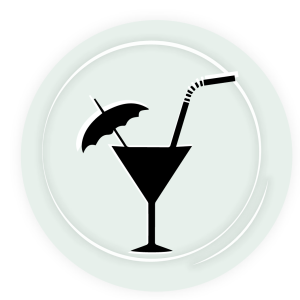 Close your eyes and imagine finding yourself catapulted, on a summer night, on the green lawn of a hill, imagine lying on oriental carpets, wrapped in flowers and olive trees, the breeze caresses your skin, you can sip the cocktail in your hands in total relaxation, enjoy a breathtaking sunset and let yourself be lulled by the music around you. The notes and the roof of stars above your eyes accompany you to faraway worlds, an aperitif with homemade delicacies welcomes you. Lulled and suspended, your gaze is lost in the endless landscape all around. Southeast, welcome to Salento, welcome to Il Giardino del Fòllaro unique Bar.
Il Giardino del Fòllaro is in Giuggianello and the first time you set foot on that hill, you think: "this is paradise". Yes, a small heavenly corner suspended in mid-air, far from the noise of the surrounding villages, the chaos of Salento and the frantic summer postcard, Il Giardino del Fòllaro Unique Bar is a non-place suspended in time and space. There are no words to describe the suggestion it gives you, a green space on a hill, the area is that of the hill of children and nymphs, we are on the Monte di San Giovanni, in the land that once was Byzantine dominion and still bears the traces of millenary populations. The Fòllaro Garden is the ideal place for evenings with friends or romantic getaways, to sip a cocktail in the shadow of the moon or for an aperitif, to get lost in the landscapes kissed by the light of the sunsets marked Fòllaro.
The idea of creating the Lounge Bar was born four years ago, much later than the little restaurant, to satisfy those who want to relax on summer evenings, without necessarily sitting behind a table. The intention is to satisfy a younger clientele.
The Arabic style was born by chance, a friend of the family imported Moroccan carpets in Salento and the idea of recreating spaces to make customers relax as much as possible as if they were in their garden excited everyone. So they tried to recreate this style, with live music, events and hookahs in tow. The Shisha is an idea born after a trip to Turkey.
In short, the suspended paradise of Giuggianello is an environment made of sweet notes, contaminations, suggestions and mixtures. A green expanse of oriental scents and Mediterranean flavors, where the fireball peeps out and greets the guests of the hill of children and nymphs.